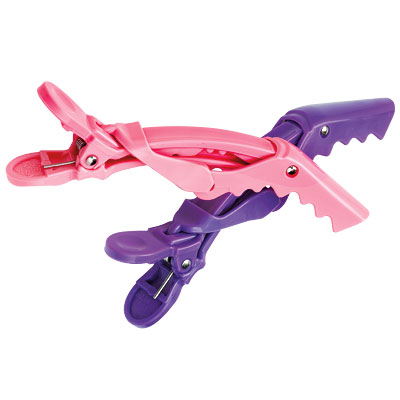 I first learned about these from one of
Glamazini's vids
and her review of them peaked my interest.
I plan to get some of these and do a "proper" review on them. They're better than the traditional, plastic hair clips in that the top part of the clip is bendable. So it
curves
around the hair and better holds the section/s of hair in place in it. You thick hair kurlies will really love these b/c of their flexibility, they're not prone to breaking! They also are said not to snag the hair and can hold the thinnest of hair into place. Sounds good, right?
At
Sally Beauty Supply
you can choose from 2 brands:
FHI Heat T-Rex Clips (2 pack) for $7.50
with your Beauty Club Card or you can get
Color Trak Croc Clips (4 pack) for $6.99
with your Beauty Club Card.
I'll tell you right now, I'll be getting the latter.
I think they are worth the investment and of better quality than the usual, cheapie ones that you find at the local BSS. There is also more thought put into the concept of these so I wouldn't mind spending the bucks.
Any of you have them? Share your thoughts.