My girl
Kat (from The Naturalista Files)
sure stays in the loop about everything. She told me about this event literally a few hours before hand saying that I should go since she couldn't make it so I said, why not? I'll stop by for a sec and see what's poppin. I was a little tired from work but so glad I dropped in. I even ran into one of my soRHOrs there. Shout outs to Kris!
The event took place, Thursday, 9/23 from 6-9p and what a lovely boutique Georgia NY is! It was my first time visiting and I must say I was really impressed. I will visit again. I really liked the cozy chic decor. They offer a wide range of products for women of all hair types, loads of indie skin care and beauty products, handcrafted accessories and in house salon services. How fabulous. Products they carry include Jane Carter, Oyin Handmade, Hair Rules and their own all natural skin care and beauty line.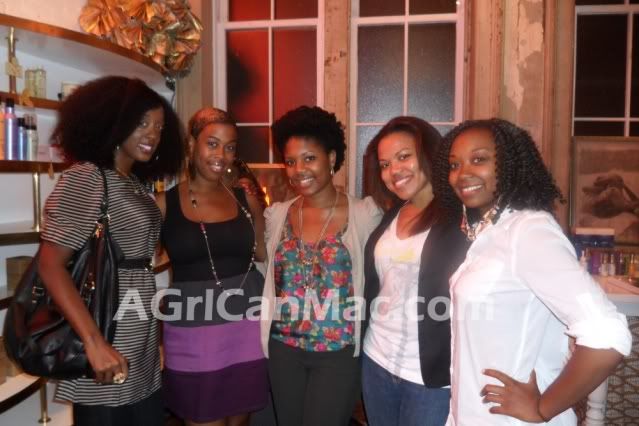 From left to right: Renae Bluitt of
In Her Shoes
(she co-hosted the event), my soRHOr's sister: Lisa (she does event planning for B. Smith) , my soRHOr Kris (she's an awesome make up artist), Friend of Kris and Lisa and me :D
I met some awesome bloggers including Desiree from,
http://www.desireefrieson.com/
. Her site talks about everything: lifestyle, beauty, current events, etc. Check her out. I also saw and chatted with Renae Bluitt from
In Her Shoes
. (If you read my
creative blog
then you know, I'm in total like with her camera and am saving up for it!)
I talked with one of the accessories designers who sells her pieces there. She uses pure gemstones, wire and other media to construct her effortlessly chic styles. They were absolutely beautiful. We exchanged cards and you will be seeing her pieces on the Accessories That Can Mac feature real soon.
Georgia NY
89A E. Houston St.
New York, NY
212
http://www.georgiany.com/
Twitter:
@GeorgiaNY
Facebook: Georgia