- Ultimate Goal: Waist Length hair when stretched by April 2012
- 1st Sizable Goal: APL by December 2010 CHECK!
- Next Small Sizable Goal up: BSL by July (summer) 2010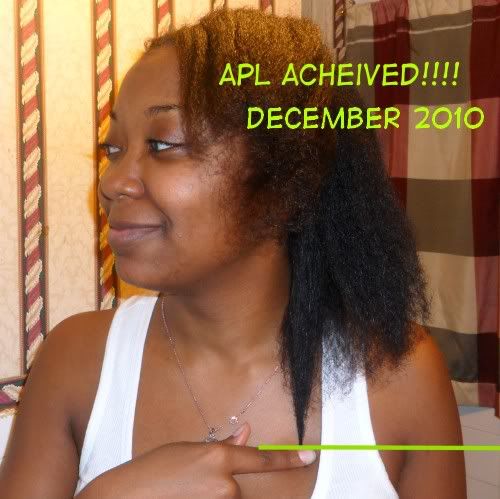 I made APL early December. [As you can see, not all of my hair is APL. My hair grows in layers so the back is APL. The front and sides range from chin to shoulder length.] I blew out my hair and lightly flat ironed it; so lightly that it still looked like a blow out. I did some aggressive dusting on my ends because I couldn't remember the last time I dusted or trimmed my hair. Yes, I need to get on a trimming schedule. Every 6 months should suffice with dustings in between when necessary. Anyhow........
I didn't do anything spectacular to achieve it like drink monkey balls sweat or oil my scalp with a magic hair growth potion every night before bed. I simply stuck with my usual regimen (condition and wash every 1-2 weeks and moisturize daily and/or as needed) and kept my hair in protective styles like wigs when I was too lazy to style my hair, various up-do's that kept my ends tucked away and crochet braids. Since the cold weather hit, I can count on one hand how many times I've worn my hair completely out. I'm so serious that the fro just won't be unleashed hard core till the spring time.
That's it. Until April, here's where I'm at now.
To all the original entrants, please get your update pictures to me. I've received one already so the rest of you please get them to me!
Stay encouraged.