2011 is here and a giveaway is long overdue. I know I said when I reached 600 followers (a while back), I would do one but I got caught up in life and everything else so I'm getting re-organized and present you with one now.
Each month for the next 6 months, I will be sharing
A Few of my Favorite Things
and giving you all a chance to win them. We're kicking off this series for the month of January with one of my favorite accessories: neck cowls. You will get a chance to win a Sofysticated Phunk(.etsy.com) neck cowl crocheted by yours truly. Neck cowls have fast become a favorite accessory of mine because they provide functionality and style. The prize will be
similar
to this one.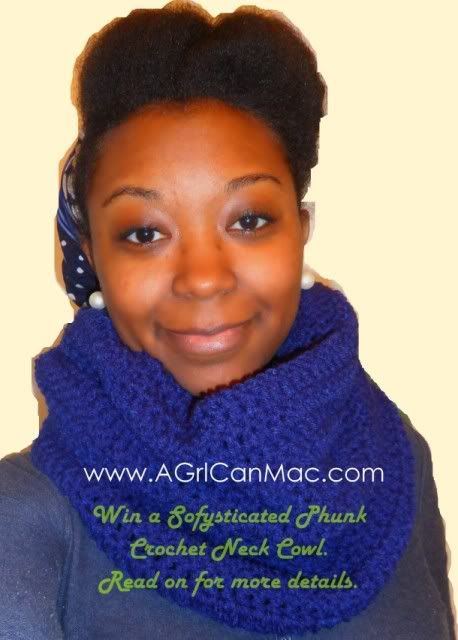 The winner will get to pick what color they'd like it in and I will make it for them.
How to Enter/Rules & Guidelines:
* Must be a follower of the blog and state your Google name (if you don't share your Google name your entry will be disqualified)
* Leave a comment stating your Google name and answer to this question: How and wear would you rock this piece?
Black Ruffled Collar: The Black Swan by Maggie Glynn $48
Aint it fiyah?! I'm so getting ideas on how to make a crochet interpretation.
Most creative answer wins. HINT: I'm an artist and I luuuuv accessories. I have an over active imagination so really take me there with your answer; get descriptive. I should be able to visualize how you would rock it with your description. Woo me with your description!
* Anonymous posts will NOT qualify
* This giveaway is open to international followers as well
Contest ends 12:01AM Eastern Standard Time, Saturday, January 8th. I will choose the comment I like best and announce the winner later that day. The winner will have 48 hours to email me to claim their prize and choose what color they would like their cowl in or their prize will be forfeited and I will pick a new winner. GOOD LUCK!
Thanks for reading and supporting. More giveaways this year so let's go!