Boy, the Northeast has been taking a pounding this winter. New York City is feeling like Rochester this time of year. I never returned to Rochester because of those winters. Mother Nature is showing us who really runs the world. After recovering from snow storms last week and snow this past Sunday evening, we got hit with another storm early this morning. Things are a mess and it was not safe to travel to work so I'm working from home and doing some writing. I wanted to share this vid, shown above, by Toni Daley. I love both her Youtube channels and in her latest cause, she's encouraging us sistas to support each other more and raise awareness of sistas we can purchase from. I know there is more to the world than just sistas, but we need to lift each other up more, because there are still so many that don't want to see us unified. Some never tire of see us acting "Love & Hip Hop" style, let's put our foot down and build each other up.
I try to buy black whenever I can. Through many years in customer service and sales, I am a stickler for quality products and services so if I get both, I'm more than elated to do business. Many of my favorite accessories shops are sista owned and offer amazing service. Below I share some businesses that I enjoy patronizing and that I plan to in the near future. Share in the comments any great sista owned businesses that you enjoy or want to buy from in the future.
Some Sista Owned Shops I Like
Rachel Stewart Jewelry
- I've been rockin with Rachel for years now. Never met in person but she seems like she has a wonderful spirit, she sells great pieces that draw inspiration from the Adinkra symbols as well as other sources and her service and fast shipping always exceeds my expectations.
Rachel Stewart Jewelry "Duafe" studs
Toni Daley
- I've been rockin with Toni for a while too. I've also never met her in person but she also seems like a vibrant spirit and I just have an affinity to good and vibrant spirits! She sells great items at great prices and her service and shipping is great too. She's based out of Toronto (Canada) so I don't get my things right away so when they do arrive, it's a nice "surprise" for my day.
Toni Daley "Out of Africa" earrings
Image Source: Toni Daley
Royal Waist Beads
- I stumbled on them on Etsy after reading up on the beautiful tradition behind African waist beads. Kristen and Chris, a mother daughter duo, make luxurious, custom-fit waist beads for women of all sizes. They offer a wide selection of hand crafted designs as well as custom designs options as well. Their customer service is outstanding. I have two waist beads from them and plan to buy more in the future.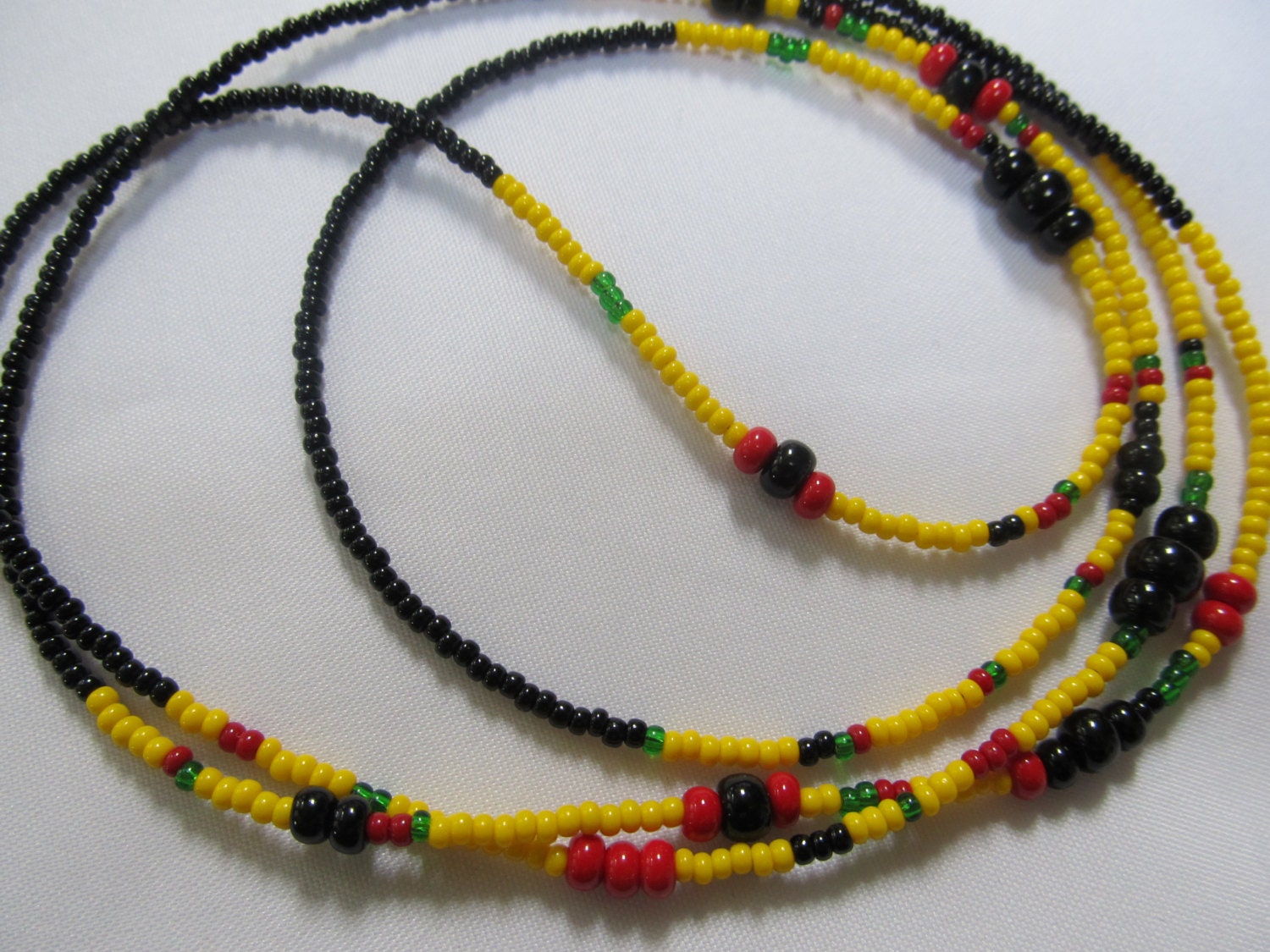 Royal Waist Beads in style "Guyanese Dreams Caribbean Belly Beads"
Image Source: Royal Waist Beads
Sweet Nature by Eddie
- I'm convinced Eddie made her products just for my hair! My hair likes every product of hers that I've tried so far.
Sista Owned Shops I Want to Try
I'm very excited to purchase from these ladies in the near future
Emijaa Jaaemil
- I've known this lovely lady for a while and she has a beautiful spirit and
amazing hair and style
. She's also an outstanding artisan; her excellent wire wrapping and bead work show all the love and pride she takes in her art. Her accessories just scream simple sophistication and style and are true investment pieces in a
grown and sexy
woman's accessory collection. Can't wait to invest in a pair of her earrings this year.
Taylrz Joynt
- I love their knit, goddess maxi dresses. They scream class and sex appeal at the same damn time. I must add one of them to my wardrobe this year. I love the red one.
Sheeq Cosmetics
- I think, CEO and founder,
Melissa Hibbert
is absolutely beautiful (she holds it down for the brown girls with kinky-koily hair TOUGH!) and a very talented makeup artist that I draw inspiration from. She's worked some heavy hitters in the entertainment industry as well as everyday women and her cosmetics line, Sheeq (short for "She's Exquisite") Cosmetics, was created for women of color. I'd love to add some of her items to my professional makeup kit for my jobs.
Follow AGCM on
Twitter
/// Follow AGCM on
Instagram
/// Follow AGCM on
Pinterest