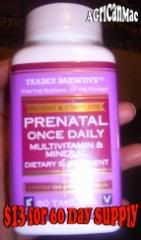 I got my prenatal vitamins like I said I would. I bought mine from Trader Joe's today and took my first one today. As stated in the pic, a 60 day supply costs about $13. My goal is to take them every morning with my breakfast so that it just becomes habit to get my day started with taking them before I have time to forget taking them in the middle of the day. So that's my plan.
Do any of you take any vitamins or hair vitamins to optimize your growth? I used to take Silica and it did give my hair growth a boost. I can't remember why I stopped taking them though. LOL. Overall, I like prenatal vitamins better b/c they also include other good things for your body.
I've heard of a Chinese tea that is supposed to be good for stimulating hair growth. It's called Dong Quai. They were talking about it on good ol
LHCF
. I plan to research it and sharing my findings and thoughts on it. So stay tuned for that. I plan to be very active this week so I may not get to research it till next week.
Hope everyone had great weekends. It's back to the weekly grind!