I had the pleasure of attending AJ Crimson's Affordable Beauty Workshop this past Wednesday evening. AJ Crimson is a celebrity make up artist whose brushes have grazed the faces of Brandy, Estelle, Amerie, Letoya Luckett, and Adrienne Bailon-just to name a few. He is also the co-creator (Keisha Whitaker (Actor, Forrest Whitaker is her husband) is the other creator) of luxury lipgloss line,
Kissable Couture
 and has his own line of cosmetics:
Beauty Statements by AJ Crimson
.  The workshop took place at the Catchi Spa in Midtown and the room was PACKED with a mix of make up artists and every day women. I even saw and got a pic with fellow YouTuber,
Angelluv2cum
.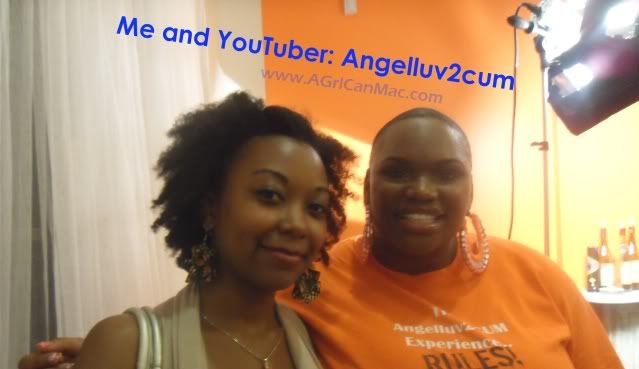 The special guest model was friend and long time client of his, Adrienna Bailon. I'm sure your remember her from 3LW if you're from my generation and she was one of the Disney [
The] Cheetah Girls
. The format of the workshop was very warm and comfortable. You didn't feel like you were talking to a big shot make up artist; more like swapping tips with your make up artist friend who's been in the game longer and has wisdom to share. AJ was very candid and created a casual Q&A environment as he did Adrianne's make up. The end look was a blue smokey eye. It looked great on Adrianne's olivey skin tone. As a make up artist and as an everyday woman, I took a lot away from the event. Here's some of what I took away from AJ: